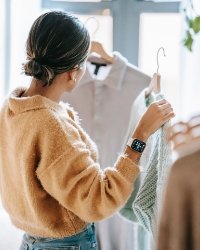 The Best Cloth Hangers for Your Wardrobe: A Comparison Guide
We have all been there — a pile of clothes the size of Mt. Everest that we don't have enough time to fold and tuck into the dressers. You don't know what to do, so you leave it in your closet until you're desperate enough for some space again.
This is where the cloth hangers come in. With the right hangers, you can make your closet look more organized, and keep your clothes in better shape. Do you know how to pick up the right ones? Read on!
A Comparison Guide to Cloth Hanger Types
With so many options out there, it can be tough to find the perfect fit for your personal style and needs. They come in different types — acrylic, wooden, velvet, and wire. Each type has its own benefits for certain items of clothing.
We've done research on each variety so you can make an informed decision. Read the guide and pick your new favorite hangers!
Acrylic Hangers
You need to stop using those obnoxious, overly-slim plastic hangers. It's time to swap them for something new and trendy — acrylic cloth hangers! And boy are they something! They're shiny, they're new, they're chic. They make you confident to show off your wardrobe to all your friends.
Acrylic hangers come in scads of attractive colors in transparent, semi-transparent, and opaque styles. These hangers are designed with durability in mind, with no easy breaking or bending out of shape like other hanger types. They are resistant to dust, oxidation, rusting, and molding, making them the perfect option for your clothes in all seasons. It means that you can put them absolutely anywhere, even in your bathroom closet.
Even if they cost a bit more than other types, their longer lifespan makes up for that price tag. With some care, most of them can give you a lifetime service.
They Are Best For: The acrylic hanger's rounded shape and smooth material surface help them glide easily over clothing, making it easy to line up items with thick fabric like wool coats, sweaters, denim jeans — anything you have hanging in your closet.
Available in designs like clips, notches, and non-slip rubber bands, they can carry any type of clothes. The notched ones work well for dresses and tops while clipped ones can hold your pants and skirts.
Wooden Hangers
Bedazzled cloth hangers are great decorative accents to any closet, but there's a lot more to these wood beauties than meets the eye. Wooden hangers are often made from solid wood and have a natural finish, which is why some people prefer them over plastic or metal. There's no denying that they look absolutely high-end with various finishes.
Wood is highly popular for being environmentally friendly and aesthetically pleasing. These hangers are durable but won't last longer than their acrylic counterparts. They do require more care because they don't survive in humid and too hot environments. Without regular maintenance, wooden hangers can collect mold or get cracked and bent.
The price of wooden hangers depends on the quality of wood used in making them. Solid wood hangers will cost more than products made with engineered wood. Also, a pack of 10 cottonwood hangers may cost less than $10 dollars while walnut hangers could be over $50.
They Are Best For: Wooden cloth hangers are best for storing heavy clothes, such as coats, jackets, and pants. As most of these hangers are thick and curvy, they can protect the original shape of heavier garments. Hang your robes, knitted sweaters, and any soft-fabric clothes without worrying about stretching the fabric. Plus, they won't wrinkle the clothes, saving you from the ironing chore every time you wear them.
Velvet Hangers
Velvet cloth hangers are a must-have for anyone who wants to be considered stylish. Their sleek design and modern style save space and make for a great accent in any closet. Show off your style with black, burgundy, navy, hunter green, and plenty of other pleasant shades.
Velvet cloth hangers are typically made of a high-quality material that is strong, durable, and luxurious. The exterior layer of velvet fabric gives clothes a soft surface to rest on, which keeps them from getting creased. It also does not rub against the garment's fibers too much even with repeated use.
These hangers are less expensive than wooden and acrylic variations but some premium models may have a steep price tag.
They Are Best For: They work well with pricey, delicate garments like silk or cashmere sweaters because the velvet is gentle on clothes. However, the velvet's texture is still slightly rough to hold slippery fabrics securely in place without damaging them.
If you have these types of clothing in your wardrobe, it's worth considering investing in a few sets of velvet hangers.
Wire Hangers
Wire cloth hangers are a cheaper alternative to other options. The wire is durable and can fit into any space because of its slim profile. As they come in many shades, it's easy to create a color scheme that matches your closet well.
These hangers are made of galvanized steel, which makes them rust-proof. Some hangers are also coated with plastic to add another layer to prevent rusting. However, they can still lose their shape and collect rust over time. Wire hangers are best for organizing a closet within a tight budget.
They Are Best For: Wire hangers are best for blouses, tops, shirts, or any other garment that does not have a lot of weight to it. Hanging up heavy coats on wire hangers can cause them to droop or sag. Some wire hangers are specifically designed for pants.
The Final Words
If you have a small closet with a tight budget, wire hangers are the obvious choice. But a closet full of delicate clothes demands the suave texture of acrylic or the delicate treatment of velvet clothes. On the other hand, wooden hangers are great for bigger wardrobes and heavy clothes. Pick the right type and save your clothes from getting creased, stretched out of shape, and torn.