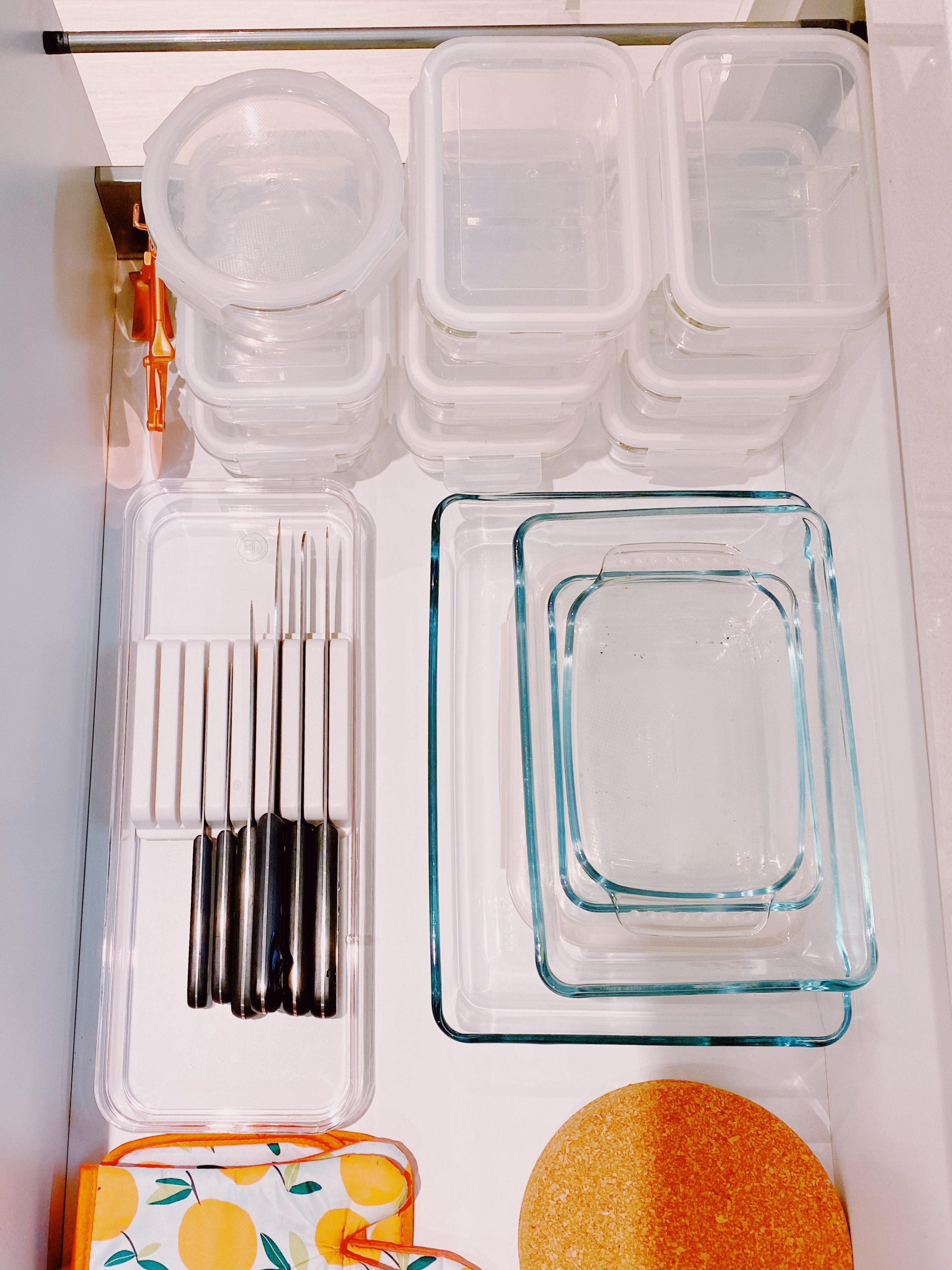 7 Solutions for Organizing Food Containers and Tupperware
Hey there, beautiful! Are you, like me and thousands of others, in dread of food containers and Tupperware strewn across your kitchen? Well, it's time to put a stop to that nonsense! Who has time to hunt through the kitchen cupboard every day? Not me, and I'm sure you don't like it too!
Organizing your food containers can be a daunting task. There are so many different sizes, shapes, and colors. The thought of sifting through your cluttered cabinets to find the one thing you're looking for is enough to make anyone throw in the towel. Don't fret! There's a solution to your problem. Organization!
7 Solutions for Organizing Food Containers and Tupperware
An organized kitchen is a happy kitchen and to make it happy, you have to tame that messy food storage container cabinet. Don't let the jumbled containers and mismatched lids drive you crazy.
So, grab some popcorn, pop your favorite bottle of wine, and let's get started with these 7 solutions:
1) Lid Tupperware organizer
It's often hard to keep up with these pesky pieces of plastic. They get lost in the crevices of your fridge or end up somewhere out of reach. Well, not anymore. A Tupperware lid organizer with adjustable dividers can solve this problem.
Start by sorting similar types of lids into separate piles and then stack them in between the dividers. It gives easy access to lids from all containers, so there's no more digging around for the right one.
It's even better if the organizer is mobile, so you can move it around and put it anywhere in the kitchen.
2) Peg boards
Do you have a treasure chest of Tupperware, but no idea where it's all stored? Peg boards are awesome for organizing these items. They make it easy to see what's available, organized in a very neat way.
The pegs on the pegboard will accommodate both square and round containers along with their lids just fine! All you have to do is position the pegs correctly on the tray.
Versatility is another plus point of peg boards. You can slide them inside a kitchen drawer but they will just fit in a cabinet, cupboard, or on a shelf.
3) Tension rod
When your cabinet drawers turn into a jungle of cluttered, ugly lids, you need some small tension rods. Yes, they're those things that hold up clothes in the laundry room or bathroom, but much smaller.
Extend the rods across the length or width of a drawer, keeping enough space in between to fit the stacks of lids. Make several aisles, depending on the free space inside the drawer.
This option is perfect for smaller kitchens and people who are looking for something temporary or mobile because they're easily removable when needed.
4) Labeled baskets
Labels are key because it's tiresome to dig into the wrong basket and realize it's not what you're looking for. Labels are a great way to make sure that everyone knows what is where. It also helps keep things organized when you're going about your daily routine. Also, baskets are good for holding everything — from small yogurt cups to large Tupperware.
Go ahead and get some plastic storage baskets, a pack of whiteboard markers, and some labels. You can label baskets with the type of Tupperware they contain, like big lids, white containers, and so on.
5) Hanging rack
When you are trying to find a new way to make use of the kitchen space besides sorting the lids in order, vertical storage is the way to go. If you're like me and have a few overflowing cabinets, then it's time to get creative.
Hanging racks can be a good option for those with limited cabinet space. Once you get them up on the wall or inside of the cabinet door and put the lids on, they free up some much-needed shelf space for pots and pans.
This is also great for people who are looking for something easy to install because the racks don't require any heavy lifting.
6) Storage trays
If you have lots of Tupperware, then storage trays are the way to go. This will help with organizing and storing your containers and lids in an orderly fashion so that there's no more digging around for the right lid. They tackle your container clutter and keep those little lids off the floor.
Just put the containers with lids on the trays and slide them inside the kitchen cabinet. This is perfect if your cabinets are deep or tall, allowing you to put even the large and tall containers on the trays.
Another added bonus is that these are mobile, so you can take them with you when moving or rearranging furniture in your kitchen.
7) Undershelf Space-Saver
Space-saving undershelf racks are the perfect option when you have tall shelves in the cabinet. There will always be some unused space right underneath each shelf, making a perfect spot to slide in the racks. Buy the ones with a slide-on system, so you don't need to drill holes into the shelves.
Take advantage of that unused undershelf area and store the lids that are constantly piling up in your kitchen. No more digging for the lid of your favorite container; it'll be right up at eye level, ready to go when needed. These racks are not even expensive but can make a huge difference in removing the stressful mess inside the cabinet.
Conclusion
When it comes to the kitchen, there doesn't seem to be a right or wrong way to organize things. As long as you can find what you're looking for and be able to put away your dishes in a timely fashion, it's all fair game. But container and lid organization is in another dimension and these 7 organizing tools will help you with that. Use them and keep your plethora of containers and Tupperware organized, off the floor, off your counters, and out of the way when you're cooking. The tools save space and make organizing Tupperware a breeze. Transform your kitchen countertop and cabinet from a cluttered mess to an organized space in no time.