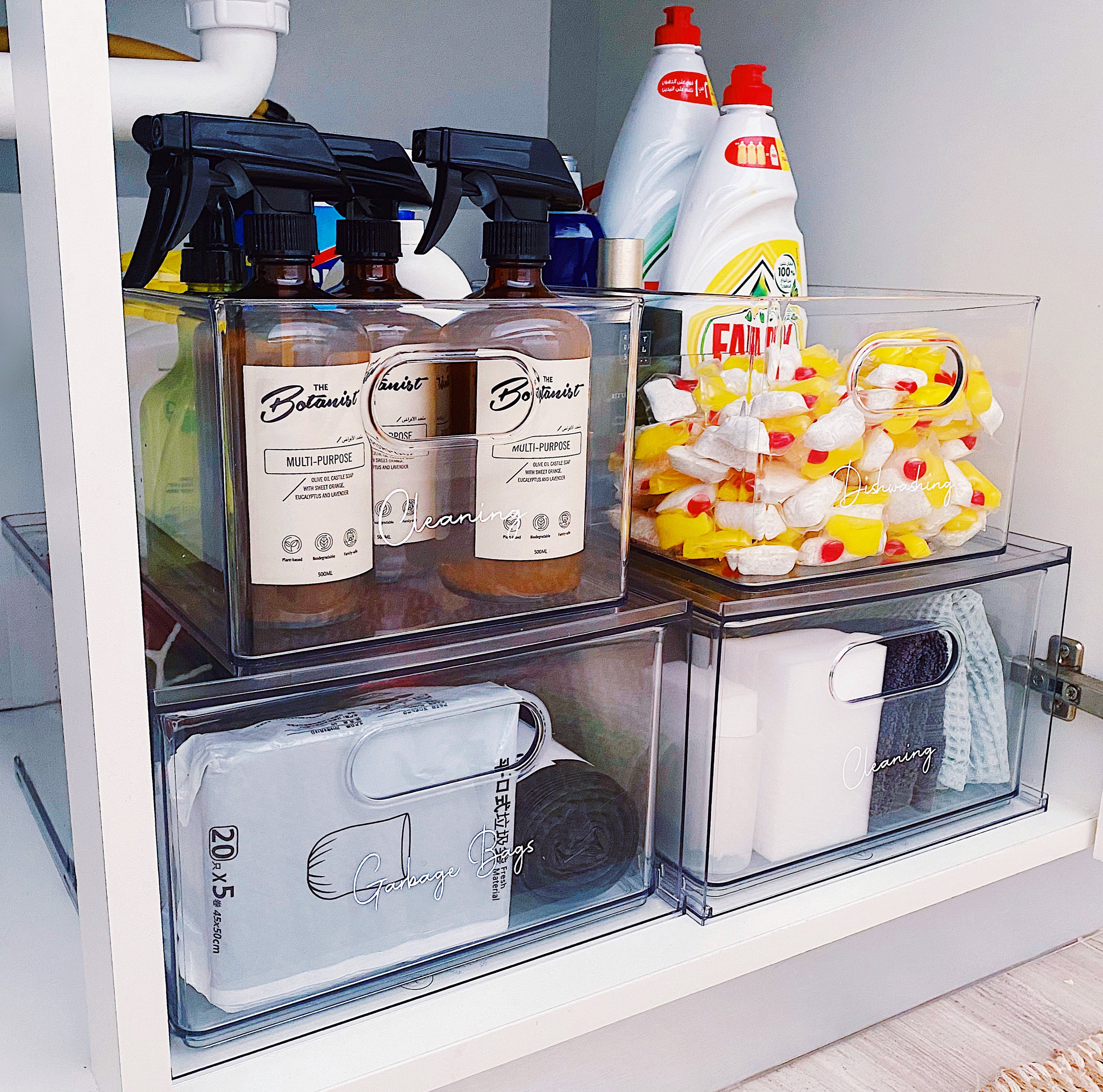 10 Brilliant Under The Kitchen Sink Organization Ideas
Wow, I just finished looking under my kitchen sink. Holy Moly! It was a disaster zone down there. Every time I looked at it, the place seemed to have grown in size and complexity. There were so many things crammed into that little space! And they were all haphazardly tossed about, making it impossible to find something when needed.
A kitchen is a busy place. Between cooking, cleaning, laundry, and more, it's not always easy to keep it organized. And the under-the-kitchen cabinet seems to be the heart of this mess because it's always kind of overlooked. But some simple organizing tricks can transform this place, so it does not look like a disaster zone ever again.
10 Under the Kitchen Sink Cabinet Organization Ideas
For many people, the storage under the kitchen sink is just a place where they chuck all cleaning supplies and other random things. But hey, this place needs some love too, right?
So, I've got these 10 brilliant under the kitchen sink organization ideas for you! I know, it sounds like a lot. But they're so easy to do and won't need much of your time or money.
A Horizontal Roll Holder
You can use it for holding trash bags, recycling bags, paper towels, or anything that can be slid onto the holder. Attach it horizontally on the ceiling of the cabinet or vertically on the walls. Simply, press its adhesive pad to the wall surface. No need to drill anything. The adhesive fix works well on tiles, glass, and metal surfaces.
This is a really simple way to get rid of the bucket that's taking up a lot of space under your sink. It looks neat and it frees up some much-needed room for something else, like many spray bottles or even more cleaning products.
Acrylic Drawers
If you're not into hanging up your dishcloths or sponges, then bring some clear acrylic drawers that stack on top of each other. Keep microfiber towels, dishcloths, and sponges there so that you don't have to dig around in the dark. Plus, they're clear so you can see everything inside.
Acrylic is so versatile, so practical, and looks fantastic! These drawers don't take up space as a big basket does. They also add to the overall beautiful appeal of your décor because they match everything else in there.
The best thing about these drawers is that they're adjustable and removable. So, you don't have to stick with your initial decision forever.
Oil Container for Dishwashing Soap
You probably have an oil container sitting in your pantry. Just transfer the dishwashing liquid from its original bottle into the designated holder. Simple, right?
You can use any oil container that has a pouring spout for this purpose, such as olive oil. They're usually transparent so they won't clash with the décor of your kitchen.
You don't want a soap dispenser under there because it takes up too much room. Soap in an oil container makes it easy to grab and dispense whenever you need it.
Containers with Lid
A couple of containers with a lid are a practical solution for keeping the mess under the kitchen sink manageable. Buy them in a size that is suitable for stacking a few, so you can store different items without mixing them up. For easy picking, you can also slap labels on the containers.
You don't need many – just two or three is enough to store items like dishwasher tabs, gloves, scrubbing pads, and any other small items that you can think of.
These containers are also great because they have lids. They'll keep everything fresh and prevent dust from accumulating.
Portable Containers
Slip a couple into that free space beneath there, and fill them up with cleaning supply bottles. They're small and portable so you can move them around whenever needed.
Since the caddy-like containers have an open face, accessing the stored items will be a breeze.
Door Organizer
If the doors in the under-the-sink cabinet are unoccupied, occupy the space with one or two organizers. It could be simple spice or wire racks that are available in different shapes and sizes, so finding one at the right size shouldn't be an issue.
Use the organizers for storing brushes, sponges, cleaning gloves, or anything that fits. Many of these racks don't even require you to drill holes. Just peel off the adhesive strip and stick.
Hooks
Command hooks are perfect for hanging items that don't have a designated place in your under the kitchen sink storage. Attach them on the doors or inside the cabinet walls and hang items like scrub brushes, gloves, and other small items.
Under Shelf Baskets
There's one more trick that can help keep under the kitchen sink storage neat. Install a shelf board in there and hang baskets from it. This is a simple way to get organized. The baskets can store all those small items that would otherwise be all over the place.
The baskets make use of the top of the sink cabinet, which is otherwise dead space. Plus, they're removable so you can take them out whenever needed.
Lazy Susan
Lazy susans are great for under the kitchen sink storage. Use them for storing cleaning supplies and other stuff. Whenever you need to access the supplies at the backside, just give it a spin. No need to remove everything to get that bottle at the distant corner.
If the cabinet has enough vertical space and you have plenty of items to store, use a two- or three-tier lazy susan.
Tension Rod
Don't like undershelf baskets? Bring a tension rod to use up the dead vertical space. It works great for hanging spray bottles.
You could also use the tension rod for other items that need to dry up, like sponges or dishwasher brushes. There are all sorts of storage tricks you can make with this simple tool.
Conclusion
These under the kitchen sink storage ideas can make a huge difference in how you organize your space. Just remember that getting organized doesn't have to be expensive or complicated. You can use simple tricks like those mentioned here and find your own way of keeping everything looking neat. With a little bit of creativity, you can come up with the perfect storage solution where all items have their designated space.