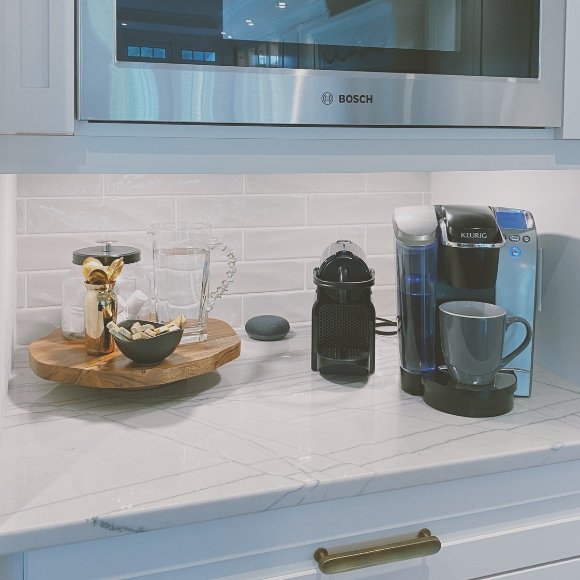 5 Beautiful Ways To Show Off Your Nespresso Pods
I have a love affair with my kitchen, and I am not ashamed to admit it. My cabinets are custom stained in dark walnut, the counters are granite from Italy, and every inch has some touches of the decor ideas that have been trending of late (which I can't help but drool over on Pinterest). But one of my favorite things about this room is how easy it is to show off my Nespresso pods!
Nespresso pods are just so darn cute! And There's something so satisfying about seeing all of that color and so much variety in one spot. We're making coffee almost every day, why not show off these little beauties while we're at it?
5 Ways to Show Off the Nespresso Pods
Over the years, I have experimented with many ways to show off these little beautiful pods. It seems that they are quite versatile and fit into various decor schemes.
So, how do we show off the Nespresso pods best? I have come up with 5 ways to organize and display them in the kitchen:
1) Trays and Drawers
A storage drawer with a holder is the perfect way to show off your Nespresso pods in a modern, clean kitchen. It's a practical solution since you can just place the Nespresso machine on top of it, saving valuable counter space.
The drawer holder's top could be hard plastic, metal, or tempered glass, with the last option being more aesthetic as you can see the beautiful pods from across the room!
A standard-size pull-out drawer with flocked liner trays that can hold up to 42 Nespresso capsules. Indentations for each capsule hold the pods in place and the drawer slides out for quick access. Take out the felt tray and you can fit up to 72 capsules in the bare space. Just be careful when sliding the drawer open and shut to stop the pods from rolling around.
This is a great way to keep your kitchen countertop free of clutter. Storing the pods directly under the coffee machine practically creates a small coffee station.
2) Rotating Carousels
You don't need to be a barista to see the functionality of these carousels. A nifty Nespresso capsule carousel makes your life so much more manageable by cleaning up the mess of coffee pods in your cabinet and countertop.
A rotating carousel has four sections and each rack can hold up to 10 pods of each of your favorite flavors of coffee. What better is that the center cavity can accommodate an extra box of 10 pods! Just pick up a capsule from the bottom of the line and replace it by sliding another from the top.
A carousel is a fun way to organize your pods and saves valuable countertop space by stacking up vertically. Anyone will love the colorful capsule columns and even your kids will take great joy in helping you load them up.
3) Pod Racks
Don't you all want your Nespresso capsules neatly organized, taking up zero space, and ready to be used whenever you need a caffeine fix?
If yes, invest in a Nespresso's ABACUS pod rack. Its versatile functionality can make it an absolute favorite to anyone that prefers minimalism. Hang it on the wall or the doors of cabinets or pantry. Want to install it horizontally? No problem! Just tuck it under a cupboard. You can even hang multiple racks to make more room for your pods!
The design utilizes a metal framework that is sturdy and lightweight. This is ideal for anyone who has a small kitchen. Not only does it save some much-needed floor space, but it also holds up to 36 pods and looks so chic!
No need to do any loud drilling and clamping screws. The racks have adhesive mounting strips. Easy peasy.
4) Glass Jars
This is the simplest storage solution for your Nespresso pods. Just dump them all inside the jar and you're ready to go. No need for sliding drawers or opening doors, just reach in for the pod you want!
This is a really nice option if your kitchen space is small because it takes up less counter space than other options. If you have wide open cabinets, the Nespresso pods can be on display right up front.
Think of bringing something unique to your kitchen instead of the traditional mason jars. Not that mason jars are basic but you have to dig through every time you want a pod from the bottom.
Bring a hexagon plexiglass pod holder instead. It will be way more visually interesting than some boring old coffee container. Plus, it's a great conversation starter! You will get so many compliments from the guests.
5) Vertical Dispensers
This is a fun way to show off your pods if you have limited counter space. It's also perfect for organizing the newest Nespresso flavors so that they're easy to see and choose from. It's like having an entire Nespresso store right in your kitchen! It's easy to fill, easy to use, and it looks great on the countertop too.
No need to set up anything. All dispensers come with a solid base and stand on their own. Depending on the size, a dispenser can hold up to 40 capsules. Because of the open design, it becomes easy to see which flavors are running low and which have enough stock.
The Final Words
Your kitchen should be a place where you can show off the things you love. If this includes Nespresso pods, so be it. These five creative ways of showing off those beautiful little cups will make the most of their presence in your home. All options will give your kitchen an organized look while making sure that the pods are on a proud display.
What do you think of these ideas? Which one will work best with your current setup?