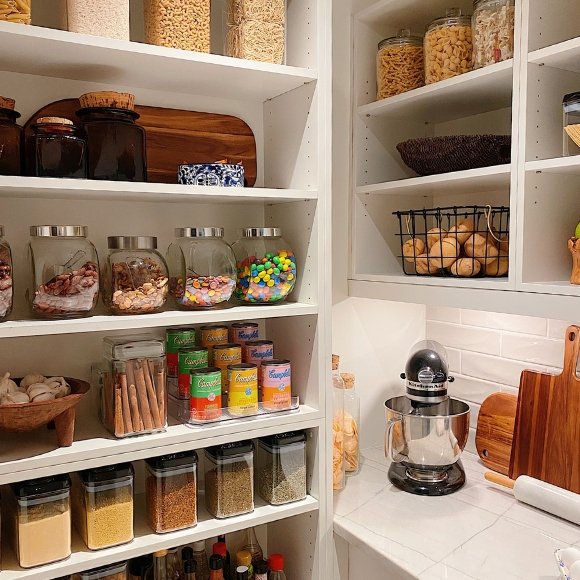 5 Beautiful Ways To Add Color To Your Kitchen With Decoration
The kitchen is the heart of the home and we have to spend plenty of time here. But no one loves to spend their time in a drab, colorless kitchen that doesn't spark even a little bit of joy. This place should be well-decorated featuring all sorts of colors and textures.
Why not go ahead and spruce up the place with a few shades and tones? And you don't even have to spend on expensive paint or exclusive furniture to make the place look visually appealing. Just look around and you will see exciting colors in everyday food items. All you need is some creative ideas about displaying them in the right way.
5 Ways to Spice up the Kitchen with Colors
Colors are great for adding some pizzazz to your kitchen. Make the place brighter, fresher, and more enjoyable by using what you already have on hand. Food items, fruits, and spices can be used as decorative elements as well as a tasty addition to meals.
Try adding these easy decorations to your kitchen space for a pop of color that will have you excited to cook again! Spice up the place with these 5 ideas:
Glass Canisters for Displaying Food Items
This one is a no-brainer because we all use glass canisters for storing cookies and other dry food items. if you not already using them then this might be an excellent opportunity to start.
Don't these canisters look so pretty with the food items inside? Add brightly colored foods like tie-dye cookies, rainbow chocolate chip cookies, or candies into the canisters.
When baking cookies, why not make them into pretty shapes or use decorative icing? This will surely bring smiles to the kitchen. Just be sure that everything is sealed tight so no one gets disappointed by any spoiled or bad food items.
Stack up Colorful Nespresso Pods in Vertical Dispensers
Are you a coffee aficionado? Love the pretty colors of Nespresso coffee pods? Then, why not try to stack them up in some vertical dispensers? It's possible to get really creative with how you line up the same flavors or mix-and-match these colorful little guys.
This adorable decoration technique will definitely leave your guests impressed. Plus, it's a great way to keep track of how many pods are left, so you don't run out all of a sudden.
Line up Spice Jars with Beautiful Labels
Spice jars scattered all over the kitchen are a mess and add to your daily dose of anxiety. Where is the cumin powder? Is the paprika jar buried inside a cabinet drawer? Where is the Italian seasoning when you need it?
Organizing them in a shelf or open cabinet not only makes your job easier but also lifts up the face of the kitchen. You don't even have to buy expensive pretty glass jars. Use what you already have on hand. Clean out some jam or condiment jars, add some colorful spices with labels, and voila — an instant spice rack that looks more like a decoration for your kitchen wall! If you want to make it extra special, give it a personal touch by writing names of spices or how they're used on each label.
If you don't like the idea of using glass, many other materials work well as spice jars. Just be sure that the material is food-safe, so it doesn't contaminate your spices.
Add a Healthy Color Dose with Fruit Bowls
Adding fruit bowls to your kitchen is a really fun way to keep fresh produce on hand. They're not only healthy but they also look so pretty! Since most kitchens are typically brown or white, adding bright colors can be extremely refreshing and nice for the eyes. Find some simple bowls — with lids if necessary — that you like and then simply place some fruits inside.
Don't worry about arranging the fruits perfectly since they will look pretty no matter how you arrange them. Just make sure that there are a variety of colors and types on display, probably at least three variations per bowl.
It's also nice to have different shapes instead of always using circular bowls; try using some square or octagonal ones as well. Since these bowls will be on display, the shapes also matter a lot in how they look with your kitchen's overall design. Using ornamental fruit bowls is another good idea.
Some of my favorite fruits to use for this are oranges and apples. They have bright colors and are pretty enough to stand alone but not too high maintenance either. There could be some flowers and plants in the mix to create more visual interest. It's a really cute way to keep it simple while still making the fruit bowl stand out among everything else in your kitchen.
Stackable Racks for Wine and Soda Cans
When you have a lot of colorful wine bottles or soda cans, why not store them in beautiful stackable racks? It's such an easy way to keep your kitchen feeling fresh and vibrant instead of boring.
Fill every shelf with different kinds of wines from all over the world. It will be a great conversation starter too when you have guests over for dinner. It looks really pretty with all those different colored cans and bottles standing side by side.
I really recommend using these in the kitchen since it's so easy to get drinks out while cooking, especially if you have a small space where items need to be squeezed together. Plus, they're very attractive, so everyone will notice them right away.
Wine racks are available in loads of eye-catching designs. If you don't know where to look for them, go on Google or Pinterest and search for stackable racks. There are probably thousands of different options to choose from.
Conclusion
Kitchen decor doesn't have to be complicated. In fact, simple is often better! These ideas are great because they don't require any expensive materials or hours of labor. Just use what you have on hand and get creative.